The Binnenrotte is the largest square in the bustling center of Rotterdam. A number of notable buildings are located on the Binnenrotte, including the famous Markthal, which is 70 by 110 meters in size. The Central Library, the Cube Houses, and the Great or St. Laurence Church can also be found here. Twice a week, on Tuesdays and Saturdays, the Rotterdam market takes place here.
Best public space in the Netherlands
During the National Congress on Public Space 2018, the Binnenrotte in Rotterdam was named 'The best public space in the Netherlands'. The project scored highest in the categories of space, use, uniqueness, and health.
Green redevelopment
In 2018, the Binnenrotte was completely redesigned, with green playing a major role. The city of Rotterdam requested that the square become a vibrant part of the city that at the same time has a good connection with the surroundings. In addition, the Binnenrotte had to have something to offer outside of market days and in the evenings.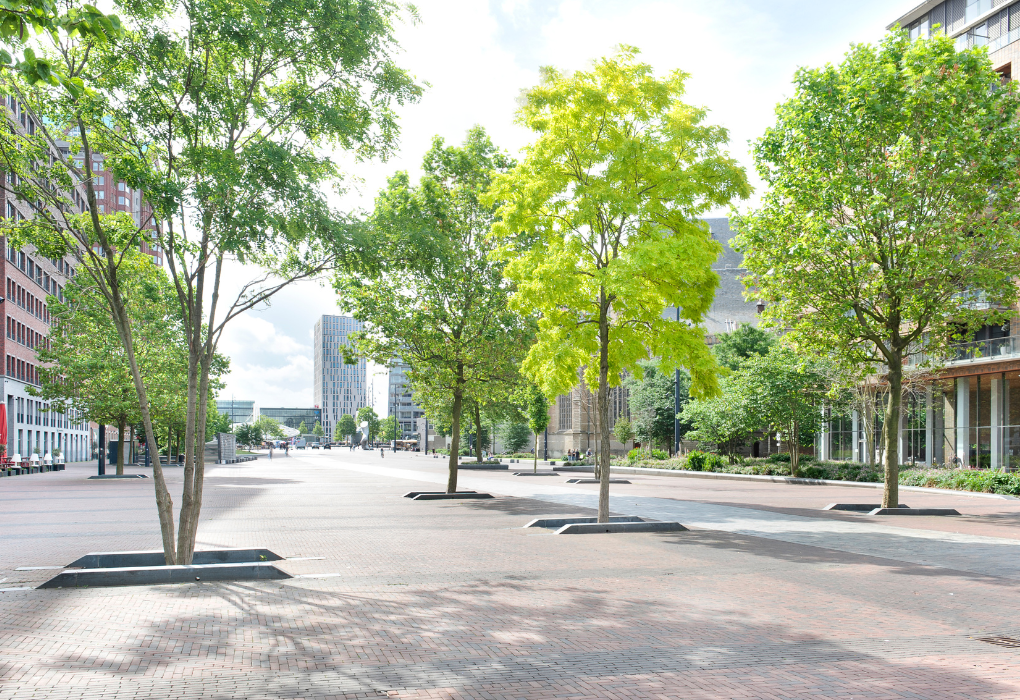 Relocated trees
For the green redevelopment of the Binnenrotte, 'reused' trees were applied. The plane trees were previously located a few streets away. These trees were taken care of in the Tree Depot and prepared for the move. This was necessary because the plane trees were so-called 'block plates' because they were pruned into a block shape. The Tree Depot ensured that the plane trees regained their natural shape.
Room to grow for the trees
Underground growth site constructions were used to create a second ground level beneath the surface. With the use of our tree bunker system, the trees have more space to grow under the paving, while root pressure is prevented and the trees are provided with extra oxygen.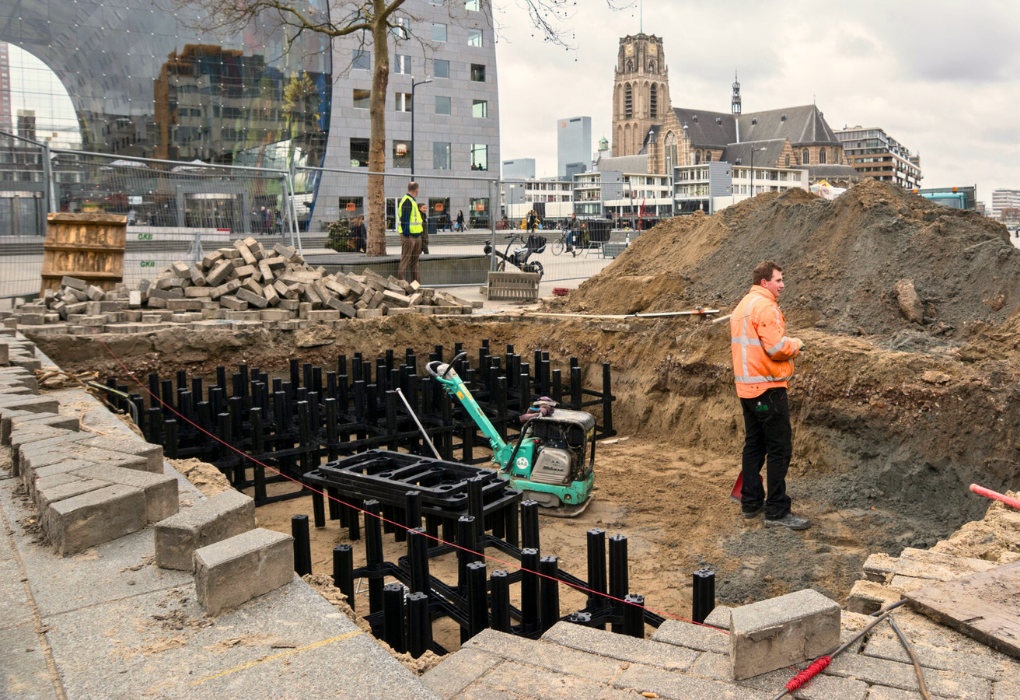 Connection with the city
The new layout of the Binnenrotte connects the Markthal, Blaak Station, and the library with the surroundings. In the new market layout, the side paths between the market stalls connect to the side streets of the Binnenrotte. This makes the market more connected to the city.
From 'runway' to green square
The stony Binnenrotte, which was sometimes colloquially referred to as 'the runway', has now been transformed into a green oasis where visitors can enjoy all seasons. We are therefore proud that TreeBuilders has contributed to the greenery for the best public space in the Netherlands!